Meeting God in Scripture (online)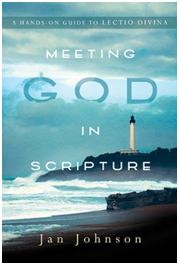 Scripture is more than words on a page. It's an account of real events of people interacting with God. You can join them in that interaction by studying the passage carefully (left brain) and then allowing the Spirit to guide you in understanding how God might be speaking to you today through that passage. This is the primary way God communicates with us. Don't miss out!
Click here to Join the Interest List
8 week online course based on Meeting God in Scripture. 
Why We Meditate on Scripture

 (benefits)        

Luke 15:3-7  Finding the Lost Sheep  (exercise)

Using the Imagination in Meditation; What Is Contemplation?

         

Matthew 14:25-33   Peter Walking on Water  (exercise)

Letting Go of Distractions and Staying Present with God

        

Isaiah 11:1-9  The Good and Peaceable Kingdom  (exercise)

Bible Study as a Partner to Meditation     

Psalm 91 Facing the Fearful Journey (exercise)

Changing from the Inside

           

John 15: 1-17  Being Transformed into Christlikeness 

 

(exercise)

You're Not Just Making Stuff Up       

Mark 5:22-34  Jesus Healing Life's Wounds & Hurts (exercise)

Being Honest with God, Praying Scripture;   Doing Lectio with a Group

       

Luke 7:11-17 Stepping Out In Compassion (exercise)

How to Meditate on Your Own        Ephesians 3:14-21  Cooperating with the Power of God (exercise)
Interact with the class

on course page and private Facebook page.
Optional Add-ons:  Group lectio via Zoom, individual spiritual direction session.
Produced by Matt Rhodes and myself.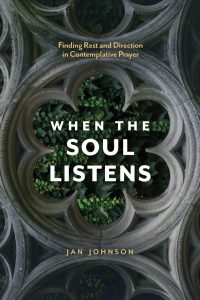 in progress!
New online course  based on When the Soul Listens.
6 weeks (concurrent with Lent).
Each week features: 
– short teaching,
– questions for group or individual reflection,
– an exercise to help you interact with God about listening in prayer.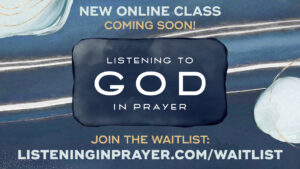 Life Without Lack  Online   
about to enroll!
Matt Rhodes and I will be leading a 6-week  course based on the content of Life Without Lack (assembled from my favorite set of D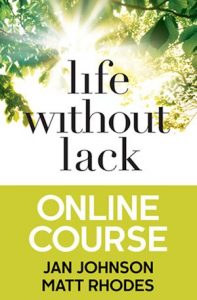 allas Willard recordings).
Sign up here to receive an email when we enroll: lifewithoutlack.net/waitlist  
Designed for individuals & groups.
You don't have to be in the US. You can download sessions at any time.
Online Advent Retreat    
offered every December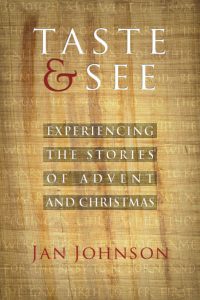 4 week online advent retreat  based on the content of my advent retreat guide, Taste and See: Experiencing the Stories of Advent and Christmas,
2 Levels Available:  2) leaders using it with groups; individuals  on their own
Both levels:  Interact with the class on course page and private Facebook page.
Produced by Matt Rhodes and myself.
Graduate Courses 
Associate Adjunct Professor  Hope International University Reading for Spiritual Formation, Developing Spiritual Disciplines Azusa Pacific University Contemplative Spirituality Friends University Introduction to Spiritual Direction RGU Spiritual Direction Certificate Program  Hearing God and Discernment Denver Seminary  Care of Souls
Cohort Programs Instructor & Spiritual Director Apprentice Experience   Wichita, KS Renovare Institute for Christian Spiritual Formation  Various locations Lifesprings International School of Ministry   Various locations in Europe & Asia Lightstream Institute  Melbourne, Australia Souleader Holistic  Immersion in Formation and Theology (SHIFT)   Southern California