One of the primary ways to connect with the heart and mind of God is to meditate on Scripture. This is not weird or difficult! In fact, you've probably already experimented with it a little (because the human mind does this!) without realizing it. Most of us need coaching to hear God better in Scripture and that's what I hope to do in this area of the web site.
So from here, you may enjoy exploring a brief article explaining Scripture meditation or exercises that lead you by the hand in meditating on specific Scripture passages. Even more information and exercises are provided in the book, Meeting God in Scripture and the CD, Meditating on Scripture.
The following articles are provided in Adobe PDF files that you can download and review.
FINDING INTIMACY WITH GOD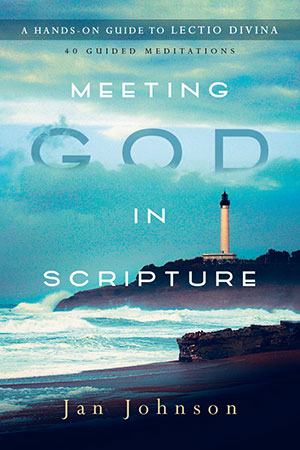 **The parable of lost sheep (Luke 15:1-7)
Christ's acceptance of us as sinners (Romans 5:1-2, 6-8)
MAKING PROGRESS IN THE SPIRITUAL LIFE
**Jesus challenging Nicodemus to think outside his categories (John 3:1-17)
Being made alive in Christ as God's workmanship (Ephesians 2:4-10)
HEALING LIFE'S WOUNDS
**Jesus challenging the man who had been disabled for thirty-eight years (John 5:1-9)
How God rescued David from the pit (Psalm 30:1-12)
HAVING THE HEART OF CHRIST
Jesus' discourse on the first having to be last (Mark 9:35-37)
BUILDING RELATIONSHIPS
**Jesus reconciling Peter to Himself (John 21:4-17)
Paul and Timothy as partners in ministry (Philippians 2:19-23; 2 Timothy 1:3-7)
**Ruth and Naomi serving each other (Ruth 1:8, 14-18; 2:11, 19-20; 3:1; 4:13-16)
MOVING BEYOND MEDIOCRITY
**Moses parting the Sea in the midst of Israel's complaints (Exodus 14:10-14, 19-22)
Jesus' discourse on asking, seeking, knocking (Matt. 7:7-11)
Paul's statements of purpose (Philippians 3: 8, 10-11; Colossians 2:2-3; 1 Thessalonians 2:11-12, 19-20)
**Nehemiah's passion for God's purposes in his life (Nehemiah 1-2; 2:11-13)
The above exercises were originally printed in the book Listening to God (NavPress, 1997). That book is  out of print (but still available in Chinese) and has been replaced by Meeting God in Scripture, which offers 40 exercises like the ones above as well as many more how-tos on the practice of Scripture meditation. These exercises are printed on this web site for free download with the permission of NavPress.
Now available:  Online Course on Scripture Meditation:  Meeting God in Scripture.
(** indicates a narrative passage, inviting you into the scene.)
Click here for the Chinese version of Listening to God
______________________________________________________________________
© Jan Johnson – For permission to reprint, Click Here