Temptation Buster
We work hard to avoid temptation. For example, I'm giving away my stash of Veggie Straws that are borderline-addictive!  Can't have them in the house! Others avoid temptation by staying away from people who annoy them so they won't be upset.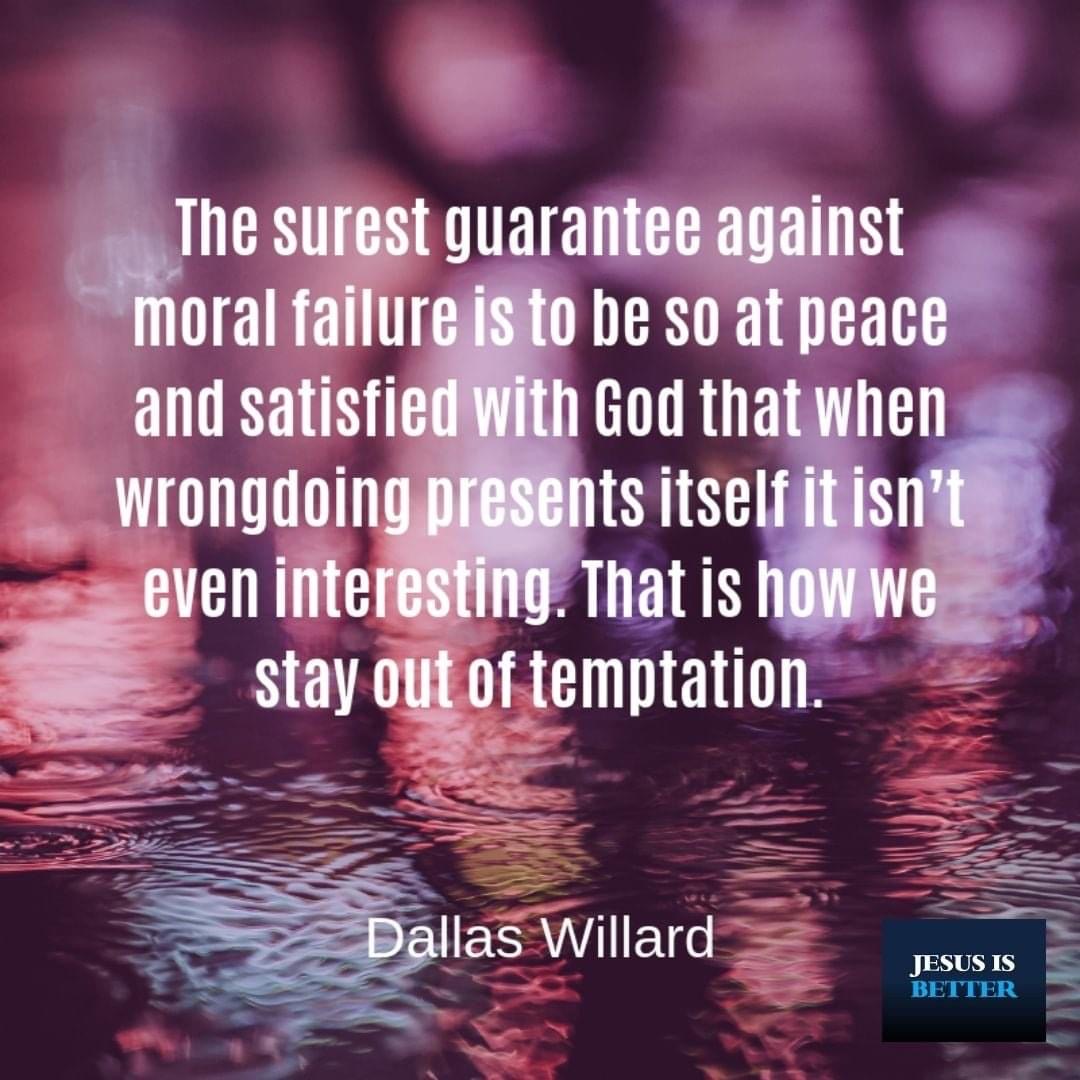 I love the idea presented in this meme, which says that it works better to get out in front of temptation by finding satisfaction in God. That's different from being satisfied with life's circumstances; this is about being satisfied in the person of God, who loves people well and moves us all toward justice and attractive inner goodness (when we're listening). Our God is also highly relational, ever drawing us Godward.
To find satisfaction in God is wise because in reality no person, place or thing will satisfy us here on our planet. We are, as C.S. Lewis said, "made for another world," which is why, he said, "I find in myself desires which nothing in this world can satisfy." We are yearning ultimately for the One who can fulfill our deepest longing to know and be known. That doesn't mean that we don't find delight in a good friend, an amazing sunset or the perfect golf swing. But none of those persons or things can provide overall contentment in life. That comes only in satisfaction with God, who seeks to communicate with us much more often than we think.
Such satisfaction prevents us from always wondering Will I? or Won't I do that thing that I know is wrong? Dallas also wrote, "I know my temptations come out of situations where I am dissatisfied, not content. I am worried about something or not feeling the sufficiency I know is there. If I have a strong temptation, it will be out of my dissatisfaction." God invites us to interact in our thoughts or even aloud with the Holy Spirit who lives within us. There's room for questions and even complaints. So I invite you to have a conversation with God about the areas of your life where you are not satisfied. Ask the Spirit, What do I need to know about this? Resolution will come if we're paying attention in the hours after such a request.
In the meantime, it's wise to "have substantial times every week when [you] do nothing but enjoy God. That may mean walking by a stream, looking at a flower, listening to music, or watching your children or grandchildren play without your constantly trying to control them. Experience the fullness of God, think about the good things God has done for you, and realize he has done well by you."
In the worst moments of my life, God has provided the resources for me to say and to believe, "God has done well by me." God can redeem anything. Anything! And in that process of God pulling us back from despair, dissatisfaction eases. We can sit in a comfortable place in silence and begin to count the things and relationships we are grateful for—large and small. Soon a look of contentment is coming across our face—we can't help it. Temptation doesn't have a chance!
Grace and peace,
Jan