Recently I wrote this in my journal.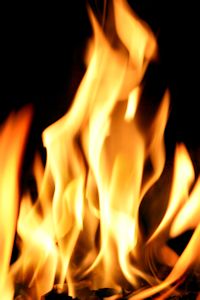 I'm in a situation that feels like flames surround me – accusations and mistaken conclusions made about what I'm thinking and feeling. It appears (though I'm not sure) that people have been enlisted to join in this view of me. Chances are it's not that bad, but it's been going on for a while and I'm weary of it. I feel like I'm in the fiery furnace story of Daniel 3. I want to be like the three Hebrew boys who walked around in the fire but didn't seem to notice the flames. Serenity in the midst of danger and chaos.
You may know the story of Shadrach, Meshach, and Abednego, three of the many Israelite exiles taken captive from their homeland to the Babylonian empire where the most powerful king of that era ruled. Because these three men refused to worship a statue of him, King Nebuchadnezzar practiced the sort of punishment not uncommon in that era by pitching them into a furnace. His fury at being thwarted caused him to overheat it to the point that the guards who threw the three men in were killed by the raging flames.
It's what happened in the oven that fascinates me. While the flames soared around them, they seemed not to notice. Even though they were thrown in with hands and feet bound, they walked – strolled? – through the fire. I don't know how to take that in. They were not huddled in the corner together in fear; they were not banging at the door, pleading to be pulled out. Instead (according to the Song of Azariah), they first confessed their nation's offenses and then blessed God in great detail.
As King N watched them (typical behavior of that day's rulers), he was shocked not only they they were untouched by the flames but also that someone had joined them in the fire. The fourth one had "the appearance of a god." (A gospel prequel? Coming attractions of the Christ?) The three heard King N call them to come out over the terrible roar of the fire. Their senses (touch, hearing) were immune to the fire. They didn't seem to notice the flames. I want to be like that – not even noticing offenses.
This detail rivets me most: When they walked out of the furnace (scrambling over the dead bodies of the soldiers who threw them in?), their unscorched clothes did not even smell of fire. Why? How? Because Jesus walked beside them? Because they sang to God?
I'm coming out of my fire alive, but I smell of smoke. I blessed God in the midst of fire some of the time. At other times, I've resented being in that fire. I have focused on how unfair the fire was. I'm fascinated that it's possible for us to walk through the fires of life and perhaps not even notice them. Like these three men, we can have our minds focused on other things. They lived in unwavering confidence in God, dependent on God for everything (3:16-18). I want that!
Even though my fire experience is technically over, I still fight to keep my mind focused on how God has intervened for me, how I am blessed in my life with the beauty of nature around me, the love of people, the partnership in service with people whose love for God astounds me. Such a habit of mind fortifies my sense of God being with me and brings me into greater ease and contentment, no matter what the circumstances are. Perhaps… the next time I won't even notice the fire. "When you walk through fire you shall not be burned, and the flame shall not consume you. Because you are precious in my sight, and honored, and I love you" (Isa 43:3b,4). May this be true for you.
Grace and peace,
Jan Johnson
______________________________________________________________________
© Jan Johnson – For permission to reprint, http://janjohnson.org/reprints.html
If you have trouble viewing this email or would like to view other Wisbits from Jan Johnson,
please visit http://janjohnson.org/wisbits_archive.html
You are receiving this email because you are on our mailing list.
If you would like to unsubscribe, please visit http://www.janjohnson.org/wisbits.html or reply with UNSUBSCRIBE in the subject line.