A Conversational Life with God
"Hearing God  is a daring idea, some would say–presumptuous and even dangerous. But what if we are made for it? What if the human system simply will not function properly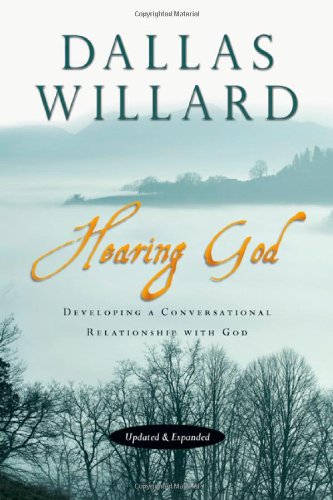 without it? There are good reasons to think it will not. The fine texture as well as the grand movements of life show our need to hear God. Isn't it more presumptuous and dangerous, in fact, to undertake human existence without hearing God?" (Hearing God, p. 11).
People speak of "having a personal relationship with Jesus," but even some of those people hesitate to speak of hearing god. Perhaps they met someone who said, "God told me . . ." followed by something ridiculous. That occurs because there is so little thoughtful teaching and guidance about how hearing God actually happens in real life. 
One of my favorite books, Hearing God by Dallas Willard addresses this. I've just read it again in a book club and even though I'd edited the book itself, edited a devotional book from HG, Hearing God thru the Year, participated in Dallas Willard Ministries' latest offering, a 24 day app devotional from the book, and most recently completed a 6 session Bible study based on Bible passages and ideas from the book, I learned so much. In these last weeks of reading, responding to God, examining the accompanying Bible passages, and hearing insights from my companions, I sensed God speaking to me over and over.
The big-picture takeaways from this book are these two ideas, which I was already immersed in, but which I will be diving into more deeply for the rest of my life.
God has created us for intimate friendship with himself–both now and for ever (p. 12).  Jesus told the disciples that he regarded them as "friends"–no longer as servants. That phrase, "I call you friend," is the intense, joyful invitation of Jesus to all of us. (Exodus 29:43-46; 33:11, Psalm 23, Isaiah 41:8, John 15:14; Hebrews 13:5-6). Throughout the Old and New Testaments, the relationship between God and people is more like a friendship or family tie than merely God taking care of our needs and then leaving us to ourselves. God isn't a robot nor are we; we work together for the common good of this world that God so loves. It's an adventure! Much more interesting than the best movie!
People are meant to live in an ongoing conversation with God, speaking and being spoken to (p. 21). We weren't meant to go it alone. Jesus is "God with us"—Immanuel here and now in ordinary, every day life. Prayer is talking with God about what you and God are doing together—doing small tasks, building relationships, creating beauty, watching God transform us into the kind of person we most desire to be.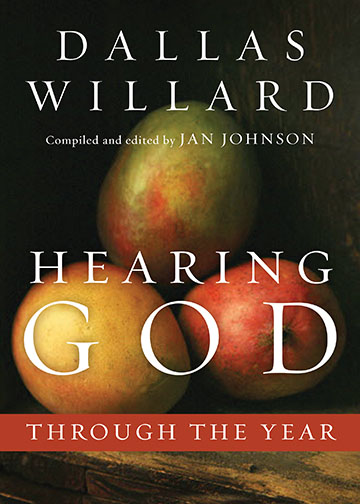 Where to start? I've been teased about giving the same answer to every question. Here it is: Ask Jesus." Uh . . . yes. Truly, ask Jesus what your next step is in friendship with him, in ongoing conversation with God. Then as you go about your day, notice any idea that comes to you that doesn't sound like you, but may perhaps be God. Then try it out. See what happens!
(By the way, Hearing God and When the Soul Listens are the reading for the first residency of School of Kingdom Living!  We can study this idea and practice of hearing God together in the 2nd cohort, which is taking registrations.)  
And a quick shout-out to my webmaster, Colleen Fodrey, who has gone many extra miles to help me!
Grace and peace,
Jan Johnson