Someone who NEVER stops praying for you
Can you picture this? At this moment, Jesus is praying for you. He is glad to be "sitting at the place of highest honor next to God, pleading for us" (Romans 8:34, See also Hebrews 7:25). Pleading? That's how passionate Jesus is in coming alongside us and helping us.
I love living in this reality that Jesus is praying for me right now. I can't help but wonder what Jesus might be praying for me? It is exactly what I need at the deepest level but also at a practical level. Jesus knows what I need better than I know!
We have a clue of what Jesus is praying for us today based on what he prayed for us, his future disciples as recorded in John 17:20-24 ("for those who will believe in me through their (the disciples'). Jesus wanted us "all [to] be one." Just as Father, Son and Holy Spirit live in glad union with each other, Jesus prayed that we would live in them, inside this Trinitarian reality in everyday life. We were built to live in union with God; without it we are only half alive. Union with God means to routinely and easily walk in the goodness and power of Jesus." (Willard, Renewing the Christian Mind).
I'm sure that Jesus is praying that I might be more aware of his tangible presence and quiet power in my life and wants me to be more aware of that. So I place reminders (photos, sayings, odd objects that remind me of how I'm loved) in my workspace, in my car, in my bedroom to help me live in the constant awareness that I'm being loved, guided and cared for. Here's a picture that I love.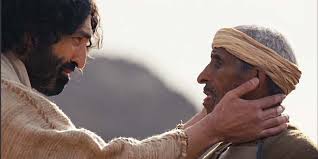 If you're willing, put yourself in the place of the gentleman in the picture. Jesus lays his hands over this deaf man's ears, holding is face as he does so (Mark 7:31-37). He opens this man's ears! Consider that Jesus is praying for you today. Might he be praying that your ears—your life—would be open to more adventure and challenge?  Or to more rest and peace?  To let go of  things that hold you back?  To reach out to someone? To see yourself differently? To be grateful for people or circumstances you've overlooked? No doubt, to trust God in every little thing. Perhaps he's praying for the opening of your soul to an idea, to a person, to his great love for you.
Grace and peace,
Jan
---