Simple But Powerful:  Practicing God's Presence
An uncomplicated yet powerful spiritual exercise is to merely practice the presence of God throughout our day:
thanking God for a beautiful sunset or the best coffee we've ever tasted,

asking God to help us with a computer problem or find something,

sensing God's presence as we close our eyes and listen to a favorite song.
Throughout the day, we can use short little "breath prayers" to surrender situations beyond our control, whether it be bad news at the dentist ("Into Thy hands" is my fave BP in the dentist's chair) or a person we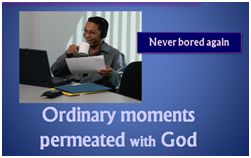 can't understand or relate to ("Show me this person's heart – it's in there somewhere!").
I used to find myself easily bored but that has changed with years of practicing God's presence. There's always something to converse with God about:
Look – there's a lost dog.  What can I do to help this poor creature? Show me what to do

As I sit in the doctor's office waiting room with nothing to read, I can pray for the person next to me who looks like they're expecting bad news. I can pray for my kids' teachers. I can ask God to give me some fun ways to goof off with my husband.

I can pray in the line at the hardware store by thanking God for all the marvelous inventions around me:  weedkiller (creates beauty); locks on doors (privacy in the bathroom); porch swings (fun and feelings of freedom and relaxation).
Practicing the presence of God makes the Great Commandment easier:

I've explored this idea more deeply in the second DVD, Practicing the Presence of God, in a new DVD series, Spiritual Formation as Abiding. This second DVD is now available along with a full-color participants guide with Powerpoint slides for you to use on your own or to duplicate and use with a group. You can buy it on disk or by downloading it. This is a companion to The Transformed Life: How Do People Change?
My goal with this DVD series is to do what I can to help move people forward in their union with God and transformation into Christlikeness.
Grace and peace,
Jan Johnson