How Do People Change?
Have you ever tried really hard to change a character trait or behavior? If you're a person who interrupts people, have you tried to stop doing that, only to find your mouth moving before you can stop it?
A great help to me has been living in the flow of John 15: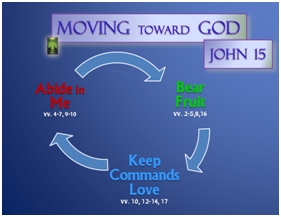 Abiding in Christ
↓
Bearing Fruit
(selfless love, joy and well-being,
peacefulness, patience with others)
↓
Keeping Commands
(such as loving others)

The more we abide in Christ (doing whatever we need to do, often small things, to stay connected to God all day long), the more we naturally bear fruit (become the person your mother has prayed you would become). The more you are peaceful, patient and kind on the inside, the more you will keep the commands Jesus gave us (outward obedience.)
For example, an early exercise in abiding for me was learning to be still with God. Instead of listing all my prayer requests for God, I learned to also be quiet and soak in the thought that God delights in me (Zeph 3:17). The more I did that, the more peaceful I was inside. The more peaceful I was, the less likely I was to interrupt people or try to convince them of my point of view. This is, of course, a form of love because not interrupting someone means respecting them instead of wanting to impose my thoughts so heavily on others.
I liked this behavior so I added other abiding "experiments" such as putting my hand under my chin and first finger slightly over my mouth when I got excited about something and wanted to interrupt. It helped me remain peaceful and very attentive to the other person. Behind the scenes, I noted who the people were that I most often interrupted and prayed that I would honor them well in conversation.  Abiding… bearing fruit… keeping commands, especially to love:  this is an organic flow.
An interesting feature of this flow is that once you routinely keep a few more commands (loving people well), you begin to enjoy living that way. The abiding, surrendered life is the life of the easy yoke and light burden. So then you become more fascinated with God and God's ways, and you want to abide more.
I've explored this idea more deeply in the first DVD in a new DVD series, Spiritual Formation as Abiding. That first DVD, The Transformed Life: How Do People Change? is now available along with a participants guide for you to use on your own or to duplicate and use with a group. My goal is to do what I can to help move people forward in their union with God and transformation into Christlikeness.
Grace and peace,
Jan Johnson